Lamento -BEYOND THE VOID-
虚ろ──

The VOID...

それは、動物から植物にいたるまで、
大地に生きる全ての生命をおびやかす謎の現象だった。
火楼の村は『虚ろ』の被害から重度の食糧難に陥り、
時には死体すらも食料として喰らう生活を余儀なくされていた。
さらなる飢えをしのぐために矛先が向けられたのは───生きた肉の塊、
そう、万策尽きた猫たちのどうしようもない苦肉の策は、
「生贄」という手段だった。村の猫からひとり、生贄が選ばれる。
同じ猫の腹を満たすために───。
A mysterious phenomena that threaten lives of all fauna and flora that exist on the planet.
Village of Karou suffers severe shortage of rations due to the VOID 
and at times were forced to live-off dead comrades in order to survive.
Out of desperation, their next measures to stave hunger were aimed at ... living flesh;
a living sacrifice.
One cat is chosen from the village as a sacrifice to feed the other village cats...
村の猫たちはみな、明日は我が身と怯えている。
そんな末期的な状況にある村で暮らすコノエだったが、ある日、
彼の体に変化が現れる。黒い痣のような文様が体に浮かび、耳と尾が
黒く染まってしまったのだ。
それは、不吉の象徴として古くから言い伝えられている呪いの証だった。
Every cat in the village live in fear that their turn will soon to come.
Konoe lived in a village under such dire situation, but one day,
his body undergoes a drastic physical transformation. 
Black bruise-like crest appear all over his body and his ears and tail turn jet-black.
Signs of ill-omen; an evidence of a curse that have been passed down generations.
───出よう、この村を。
... I must leave his village.
共食いをせねば明日を生きられぬ猫たちに、話し合う余裕などない。
村の猫たちにこんな姿を見られたら……危険を感じたコノエは、
火楼を出ることを決意する。
There's no room for discussion with cats that have turned to cannablism as means for survival.
If the village cats saw Konoe's current state...
Sensing danger for his life, he decides to leave Karou for the first time in his life.
目指すは祇沙で最も大きい街、藍閃。
藍閃なら、この身体を元に戻す方法が見つかるかも知れない。
そう信じて、コノエは『虚ろ』の危険に惑いながらも旅に出るのだった。
He decides to head towards the largest city in Sata; Ransen.
In Ransen, he may be able to find a way to turn this cursed body back to normal.
With high hopes, Konoe begins his journey through the dangerous "VOID" that hinder his way...
★全キャラ共通ルート / Common route for all characters★
1:生贄の猫の様子を窺う / Take a peek at how the sacrifice cat is doing
2:ヘビが締め上げてくる加虐の心 / Sadistic spirit being squeezed out by the snake
2:這い回るヘビの皮膚のなまめかしさ
      / Bewitching sensation aroused from snake's skin crawling all over
2:身も凍る蛇の皮膚の冷たさ / Chilling sensation from snake's skin
2:ヘビが体に巻きつく息苦しさ / Stifling feeling from snake being rapped around the body
ライ / Rai 
   (3 ENDINGS: GOOD & 2 BAD) 

1:思わず見入る / Gazed in awe at Rai 
1:「お前はどうするんだ」/ "What about you, Asato?"
1:ひどく哀しくなる / Made my feel terribly sad
2:じゃあ、決まりだな / Alright then, it's settled you're coming with me!
1:奇妙な喜びの感覚が強い / There's a strong sensation of strange happiness
2:いい加減にしろ / Cut it out!
2:とりあえず話を聞く / I'll hear what you want me to do, first
1:ライの気配を感じた / I felt Rai's presence
2:禁欲を / Continence 
2:罪悪を / Guilt
2:祈りを / Prayer
2:篝火を / Beacon


※1:業火を ⇒ ラゼルEND / Choose "Hell fire" ⇒ Razel BAD END

1:買う / Buy the incense
2:我慢する / Suppress the urge to kiss
2:止めるだろう / No matter what, I'll stop him from turning into a monster


※1:逃げ出すだろう ⇒ BAD END / Choose "I'll give up and run away" ⇒ BAD END

1:差し出された手をはねのける / Reject Froud's outstretched hand


※2:差し出された手を取る ⇒ フラウドEND / Choose "Take Froud's hand" ⇒ Froud BAD END

2:声に耳を傾ける / Listen to the voice
1:声を無視する / Ignore the voice         
GOOD END
BAD END
アサト / Asato 
   (2 ENDINGS: GOOD & BAD) 

1:思わず見入る / Gazed in awe at Rai 
1:「お前はどうするんだ」/ "What about you, Asato?"
1:ひどく哀しくなる / Made my feel terribly sad
2:じゃあ、決まりだな / Alright then, it's settled you're coming with me!
1:奇妙な喜びの感覚が強い / There's a strong sensation of strange happiness
2:いい加減にしろ / Cut it out!
2:とりあえず話を聞く / I'll hear what you want me to do, first
2:アサトの気配を感じた / I felt Asato's presence
2:禁欲を / Continence 
2:罪悪を / Guilt
2:祈りを / Prayer
2:篝火を / Beacon
1:後を追う / Go after Asato
1:それでも諦めない / Nonetheless, I will not give up
2:もう無理だ / It's too late               
GOOD END
BAD END
バルド / Bardo 
   (2 ENDINGS: GOOD & BAD) 

2:何も考えずに呆然と見る / Stare at Rai dumfounded without thinking
2:「わかった、逃げる」/ "Alright, I'll make a run for it"
2:妙に楽しくなる / Oddly, it made me feel happy
3:むしろ愉快になってきた / Rather it made me joyful
1:何も言わずに睨みつける / Glare at Rai in silence
2:とりあえず話を聞く / I'll hear what you want me to do, first
1:ライの気配を感じた / I felt Rai's presence
2:禁欲を / Continence 
2:罪悪を / Guilt
2:祈りを / Prayer
2:篝火を / Beacon
2:バルドの顔を見る / Look at Bardo's face
2:やはりバルドが気になる / Still, I'm curious about Bardo 
2:絵を懐にしまいこむ / Tuck away the picture close to my heart
1:目を開ける / Open my eyes
2:ヴェルグを信じない / Don't trust Verg


※1:ヴェルグを信じる ⇒ ヴェルグEND / Choose "Trust Verg" ⇒ Verg BAD END

1:それでもやっぱり、嫌だ / But still, I don't like it!
2:その方がいいはずだ / It's better this way
GOOD END
BAD END
GAME INFORMATION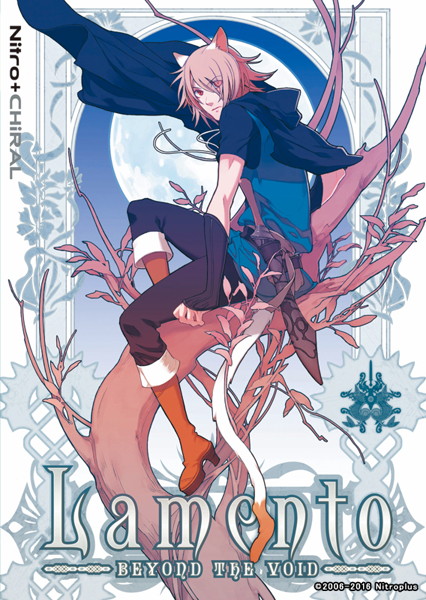 【BLゲーム】Lamento -BEYOND THE VOID-
     Nitro+CHiRAL
     (Windows Vista / 7 / 8 / 8.1 / 10)